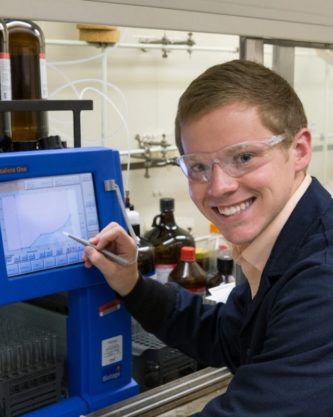 When Michael McLaughlin had to choose what college to attend, Franciscan University was the obvious choice. He had attended a Steubenville Youth Conference as a freshman, and he knew Franciscan would help him grow in his faith and academics.
Michael graduated from Franciscan University with bachelor's degrees in chemistry and biology in 2015. He is now pursuing his doctorate in synthetic organic chemistry at the University of North Carolina at Chapel Hill and is developing new chemical reactions to access complex molecules from cheap feedstock chemicals. After graduation, he will move to Chicago with his wife, Sarah (Brinkman '16) McLaughlin, where he will start as a senior scientist in Medicinal Chemistry with AbbVie, the company Michael interned with as a student at Franciscan.
"I chose chemistry and biology because I was really interested in the sciences and learning about the world that God created," says Michael. "Biology was my favorite class in high school, and I knew that almost all of biology can be explained by knowing the chemistry behind it."
Attending Franciscan gave Michael multiple internship and research opportunities outside of Steubenville and on campus. Through the Franciscan Institute for World Health, he undertook an internship with AbbVie, Inc., in Abbott Park, Illinois, and did research on neglected tropical diseases. He also did research at the University of Perugia in Italy, where he engaged with a worldwide community of student scholars. These experiences prepared Michael for the daily challenges of graduate school.
Dr. Jeffery Rohde, chair of the Chemistry and Physics Departments at Franciscan, had a big impact on Michael. He not only enriched Michael's love for chemistry, but also provided him with his first internship.
Dr. Daniel Kuebler, chair of the Biology Department at Franciscan, also inspired Michael to not only use his education to contribute to science but also to evangelize the world.
"Dr. Kuebler once said 'Evangelization requires excellence,' meaning that if we are not excellent and knowledgeable in our respective fields, then those around us won't take us seriously when we try to spread the Gospel," says Michael. "I think this statement is something every Franciscan student should take seriously if we are serious about the faith. It means putting forth our best effort in classes and internships to ensure that we are prepared once we leave Franciscan to be more effective in evangelizing the world."
While at Franciscan, Michael was on the cross country team and a member of the Fishers of Men Household. He received the Robert McMahon Award for Excellence in Undergraduate Science Research and the Franciscan University of Steubenville Outstanding Freshman of the Year Award, among other honors.